[Daily log excerpts - by Fabian]

UNPLUGGED
May 29 & 30

… and Jan and I went to have lunch outside, because it was a beautiful day. Jan had to deliver some brochures at one art gallery in which his friend from California will exhibit tomorrow.

At the gallery, I met the owner, a German woman, also very kind. Then, Jan suggested that we buy some sandwiches and eat them at the small backyard of the gallery. The whole gallery was very nice, harmonically decorated, like a relaxed environment. While eating, we chatted about Argentina (its costumes from the farms, principally), and we drank tea … she has one boy that is soon to be married, and two daughters of 28 and 30 years old. she makes dishes and more pottery things; very nice all of them which are being exhibited…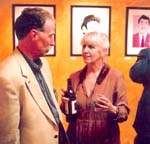 Kathy Frank and Jim Wilson
… When exiting work, I went to the airport, where it was going to be an art opening (some paintings with modern techniques). I was about half an hour early for the opening, I made a stop at Borders and read a little bit. I grabbed a book with panoramic pictures (those stretched ones), and also four books of Argentina and Buenos Aires. When reading I paid attention to the introductions. They said some things, from which I could only feel proud and sad at the same time. Sad because Argentines don't realize of their own and unique identity…
… I liked the gallery at the airport. Lillian had four painting being exhibited...When I saw the four of them together, I really perceived a consistent message. This doesn't mean that I understood the message, but I rather understood that there is a deep canalizacion (the process that starts with the artist's need and finishes in the piece of art work) in her art. I liked very much how the four paintings put together look…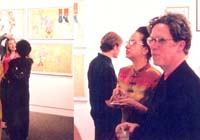 Lillian Mulero and Jan Galligan
… We met a couple of artists…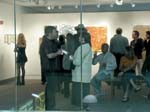 … As soon I entered to the gallery, I saw my ex-professor Sinopoli and his wife. At the same time Edgardo appeared; and some seconds later,
Jan, dressed like a porteno (in Edgardo's words), joined us…
… Jan's art goes beyond taking pictures, or writing. He creates, from everything, a whole story and fills it with the best attributes. And, even though it might be hard to find something new to discover, or something to relate with other experiences, he is able to find it. He is a man, despite his age, who hasn't lost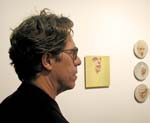 capacidad de asombro
(ability of getting astonished, something most people lose in their childhood).


… so with Edgardo we saw all of the art works. I took pictures with my camera and with Jan's as well. May be some pictures appear in a web page (the one that once I told you to look for).
PLUGGED
May 31

… we entered the gallery and it was full of people; Jan welcomed and introduced us to most of them. Many of these people were artists. Edgardo and I immediately went to the back of the gallery and got ready to take some pictures. I briefly told Edgardo how to focus, and he started to shoot. Meanwhile, I had Jan's digital camera, and shot unnoticed. Edgardo was not only noticed, but everyone would tell him that he must be a serious professional in order to take pictures with such a big Hasselblad. And he, as always, smiled…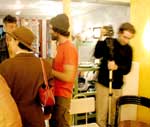 … The place, with Garrett's paintings and the decorations, was so harmonic that one wanted to stay for many hours only looking, or thinking, or doing nothing. Everything was a motif for a picture: the clothing with the frames of the paintings, the people's expression when looking at the paintings, the heads with their hair styles, the feet with their shoes, the sofa with its pillows..
… Garrett had a happy face, and he didn't stop answering questions. Lillian was with Garrett's wife, and every time I chatted with them they were speaking about some funny thing…
… At the end we met Monica and her daughter. Edgardo was talking with them and laughing a lot. The daughter makes guitars, is very intelligent, and has her own renewable energy…
… After that, we went to V&R to have dinner. It was 10 pm, just the time at which we would start to eat dinner in Argentina. Jan had organized a party
and about 20 people were there. We spoke with everyone and all the time, about food, art, and the like.I was seated in front of Garrett's wife. She told me that she studied classic and Spanish ballet. We both said we like cooking, and we also agreed in that we don't like to see the fishes when they are trying to survive at the moment they are caught by fishermen.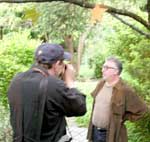 Caught in the act...
… One of the funniest moments of the dinner was when Edgado, in a loud voice, said that "laziness leads to art". Jan and Lillian se descostillaban de risa (laughed without stopping). Me too…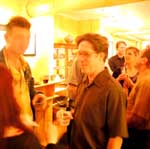 descostillaban

… When we finished dinner, Jan brought some CDs of cuarteto (popular music from Cordoba, Argentina), and the few that still were at the party started dancing. Even the waitress danced with Edgardo…