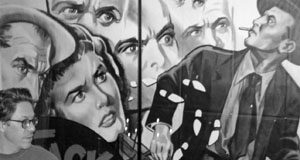 My Dumb Year, Your Fabulous Century
March 22, 2000

---
Excerpts from a few of my new books:
"An Underground Education: an unauthorized and
outrageous suppliment to everything you..."
Richard Zacks
Chapter 2: Suppressed and Illicit Works
Mark Twain Defends Small Penises
In 1902 Twain was invited to attend a yachting party with millionaire
Henry Rogers and other high-rollers who called themselves "The Mammoth
Cod". Twain couldn't make it, but sent the following...
Thank you for inviting me. Along with my regrets I send you
this poem that I wrote for the instruction of children. It is
intended for Sunday Schools and when sung by hundreds of sweet,
guileless children, it produces a very pretty effect.
I.
I thank Thee for the Bull, O God!
Whene'er a steak I eat
The working of his Mammoth Cod
Is what gives us our meat
II.
And for the ram a word of praise!
He with his Mammoth Cod
Foundation of our mutton lays
With every vigorous prod
III.
And then the Boar, who at his work
His hind hoofs fixed in sod.
Contented packs the Embryo Pork
All with his Mammoth Cod
IV.
Of beasts, man is the only one
Created by our God,
Who purposely and for mere fun
Plays with his Mammoth Cod!
I object to your society for several reasons, but primarily
because I fail to see any special merit in penises of more
than usual size. What more can they achieve than the small
ones?
Yours, Mark Twain
---
"The Art of the Eye"
An exhibition on vision
Minnesota Museum of Art, 1986
Unusual Facts About Vision
It has been calculated that the mechanical energy of a pea
falling one inch, if converted to luminous energy, would
produce enough quanta to give a faint impression of light
to every man, woman and child who has ever lived on the
face of the earth.
---
"25 Years of Space Photography"
Jet Propulsion Laboratory
California Institute of Technology
IBM Gallery of Science and Art, 1985
Catalog essay: The Persistant Observer
Daniello Barbaro, professor at the University of Padua wrote
in 1569 a treatise on perspective, suggesting fitting a small
hole in the wall with a lens:
Close all shutters and doors until no light enters the
camera (room) except through the lens and opposite hold
a sheet of paper which you move forward and backward
until the scene appears in sharpest detail. There on
the page you will see the whole view as it really is,
with its distances, colors, and shadows and motions,
the clouds, water twinkling, birds flying.
Space photographs are made by a process in which the camera
obscura is metaphorically inverted. Space itself is the "dark
room" which contains within it both the intended target, e.g.
the moon or Venus, and the spacecraft is a moving lens that
travels backward and forward until the scene appears in
sharpest detail. It is the surface of the Earth that is
the sheet of paper, the plane on which you can see the whole
view as it really is.
---
"Rachel Whitehead: House"
Edited by James Lingwood
Exhibition catalog about one work from 1994
A selection of headlines from newspaper stories about "House"
THE HOUSE THAT RACHEL UNBUILT
THERE'S A STONEY HOUSE!
WHEN A HOUSE IS NOT A HOME
A CONCRETE IDEA WELL WORTH PRESERVING
'HOUSE' SHOULD BE DEMOLISHED
THIS IS THE HOUSE THAT RACHEL BUILT
REWARDING ART
HOME TRUTHS
POLITICIANS WHO GIVE NO HOUSE ROOM TO ART
HOUSE CALLS
BRINGING DOWN THE HOUSE
HOUSE RAISES QUESTIONS OF ART
IF THAT IS ART THEN I'M LEONARDO DA VINCI
---
The Onion presents: Our Dumb Century
100 Years of Headlines from America's Finest News Source
The Onion has quickly become America's most consistently
hilarious spot on the flogged dead horse of American comedy.
Published from a remote office in Madison, Wisconsin
page 113
Monday, July 21, 1969
HOLY SHIT
MAN WALKS ON
FUCKING MOON
Neil Armstrong's historic first
words on moon: "Holy Living Fuck"

TRANQUITY BASE: This is Tranquility Base. The Eagle has landed.
Jesus H. Christ, Houston, we're on the fucking moon. Over.
HOUSTON: Roger. Tranquility we copy you. We cannot believe you
are on the fucking moon. Repeat. Cannot fucking believe it. Over.
TRANQUILITY: It was a smooth touchdown. The moon for Christ's
sake, the moon. Over.
HOUSTON: Roger that. You're clear for TI, walking on the moon. Over.
TRANQUILITY: We copy. Walking on the moon. Jesus. Over.
HOUSTON: We read you. Over.
TRANQUILITY: I'm on the bottom rung of the ladder. Just one more
step and I'm... (long pause).
HOUSTON: Tranquility?
TRANQUILITY: Holy (pause) living (long pause) Fuck!
HOUSTON: Tranquility? Do you copy?
TRANQUILITY: Are you fucking believing this? Over.
HOUSTON: We read you. Over.
TRANQUILITY: I abso-fucking-lutely am standing on the surface
of the fucking moon. I am talking to you from the goddammed
fucking moon. Jesus H. Christ in a chicken basket.
HOUSTON: Holy Shit.
TRANQUILITY: Holy mother of fuck. The fucking moon. Over.
HOUSTON: A-fucking-affirmative. Over.